This Web site has been set up by Subdeacon Andrei Psarev as a meeting place for those who are concerned about the past and present of the ROCOR. A variety of opinions is encouraged as long as academic standards are upheld: claims should be supported by evidence and controversial views must be couched in an inoffensive tone. This discussion board is moderated. Offensive or potentially libelous comments will be removed.
Greetings of His Eminence, Metropolitan Hilarion, First Hierarch of the Russian Church Abroad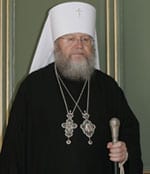 It is impossible to adequately evaluate today's challenges without understanding the past in its complexity. I hope that this site will advance the study of the history of the Russian Church Abroad and will become a place of lively fellowship, where scholars can post updates on their projects and perhaps raise some measure of support. May God bless the objective study of our past, without whitewash or omission.