Bishop Antony (Dashkevich) is perhaps the least known Bishop of the Russian Orthodox Church Outside of Russia. This is due to the fact of his short service as a Bishop in the earliest years of the existence of ROCOR, and, as well, that not a great deal is known about his life, except his service in Alaska during the late 1890s and early 1900s. Consecrated as Bishop of Alaska & the Aleutians by ROCOR in Belgrade late in 1921, at the behest of Patriarch Tikhon, his consecration and travel to America caused a great deal of friction inside ROCOR, with Metropolitans Platon and Evlogy both rather vehemently opposed to his appointment. Retired in 1922 due to illness, he faded into obscurity, and was rarely mentioned afterwards, except in polemical materials primarily originating from the North American Metropolia/OCA.
The future Bishop Antony was born in the Province of Volhynia in the Russian Empire, to a clergy family, on 21 February 1858 (or 1861). [1]http://pravbeseda.ru/library/index.php?page=book&id=741 The Province of Volhynia was comprised of areas that had been taken over by the Holy Equal to the Apostles and Enlightener of the Land of Russia, Vladimir, by 981. The area eventually became the principalities of Galich and Volhynia, and became a successor state to Kievan Rus between the 12th and 14th centuries as the Grand Duchy of Galich-Volhynia. The Grand Duchy was divided between Poland and Lithuania in 1340, with Poland taking western Volhynia, and Lithuania, eastern. In 1569, the area was reunited as a province of the Polish-Lithuanian Commonwealth. The Imperial Russian Province of Volhynia was created on 12 December 1796, after the Third Partition of Poland.
The young Andrei Dashkevich studied at the Volhynia Theological Seminary, founded in 1796 by Bishop Varlaam (Shishatsky, 1750-1820) of Zhitomir, Vicar of the Minsk Diocese. The Seminary was originally located in the Transfiguration Monastery at Ostrog.[2]http://drevo-info.ru/articles/11865.htmil In 1836, the Seminary was moved to Kremenets, and was one of the largest seminaries in enrollment, having 600 students.[3]http://drevo-info.ru/articles/15730.htm Upon finishing the Seminary, Andrei Dashkevich was ordained to the priesthood, and sent to teach at the Simferopol Theological School.
In 1896, Father Andrei Dashkevich was sent to serve in the North American Diocese of the Russian Orthodox Church, where he served in Alaska until 1906. He held responsible positions in the Church in Alaska, and, and seemingly enjoyed the trust and respect of both Bishop Nikolai (Ziorov, 1851-1915), and his successor, Bishop Tikhon (Bellavin, later Patriarch, and New Confessor; 1865-1925). Bishop Nikolai was said to be "a stern person who presented himself with stately dignity … He surrounded himself with able assistants."[4]http://orthodoxwiki.org/Nicholas_(Ziorov)_of_Warsaw Father Andrei Dashkevich was tonsured into monasticism in 1898, and in 1903 was elevated to Igumen. From 1896 to 1906 he served as Rector of the Cathedral of the Archangel Michael in Sitka, and Dean of parishes in Alaska.
Bishop Nikolai (Ziorov) was transferred back to Russia in 1898, as Bishop of Tver and Kashin. His successor in North America was Bishop Tikhon (Bellavin). In 1900,  the Diocese was reorganized and the name changed from "of Alaska and the Aleutians," to the Diocese "of the Aleutians and North America" by Bishop Tikhon. On 14 December 1903, the first Vicar Bishop for North America, Innokenty (Pustynsky, 1868-1937; in the Renovationist "Church" from 1923 to 1932; in 1933, arrested by the NKVD, released and arrested again in 1937, and shot in Alma-Ata, Kazakhstan), was consecrated as Bishop of Alaska in Saint Petersburg, arriving in New York in 1904. Bishop Innokenty returned to Russia in 1909.[5]http;//orthodoxcanada.ca/Metropolitan_Innocent_(Pustynsky)
In 1903, troubles arose for the Church in Alaska due to claims on various Church properties in Sitka and on Spruce Island made by Protestant missions. As a result, Bishop Tikhon instructed "the clergy and sextons in Alaska to stand firm in defense of Orthodox Mission boundaries during the American land surveys scheduled for the summer of 1904," in an "Announcement" in the American Orthodox Messenger.[6]Smith, Barbara "Index to the American Orthodox Messenger," p.455, Volume 7, 1903, included in materials from the Library of Congress, dossier on Bishop Antonii Dashkevich, container B-5, … Continue reading Hieromonk Antony (Dashkevich), and the Alaskan Priest Andrei Kashevarov, were assigned by Bishop Tikhon to oversee surveys of Church property in Alaska. A later article in the American Orthodox Messenger by Hieormonk Antony (Dashkevich), is abstracted in the Index to the American Orthodox Messenger thus: "Father Antony, Dean of the Sitka District, addresses the issue of the Orthodox Mission Property rights in this long piece, with a number of portions in English. He reports that a special U.S. Government Inspector, Judge J.W. Witten, reviewed the property claims of the Orthodox and was satisfied with them … Father Antony includes in English a very detailed description of Orthodox Mission properties in Juneau, Sitka, Prince William Sound, Cook Inlet, Kodiak Island region, Afognak, Unalaska, Belkofsky, St. Paul and St. George Islands, Nushagak, Kvikhpak, Kuskokwim, and St. Michael regions. The article includes a letter, in English, by Judge Witten, setting out U.S. acts that affect Orthodox Church property rights, and offering suggestions. Father Antony responds to Judge Witten in English, adding explanations, and expressing the wish to expand the Missions."[7]Smith, Barbara, ibid.., pp. 455-462 As a result of the assistance of Father Antony (Dashkevich) and Father Andrei Kashevarov, 62,783 acres of Church property were transferred to Church Missionary committees in Alaska.[8]Golubov, Protopriest Alexander, "The Alaskan Vicariate," in Volume II of The Orthodox Encyclopedia, Moscow, 2002.
Hieromonk Antony (Dashkevich) was, apparently, well conversant in English, also was involved in the community in Sitka. In a letter dated 14 May 1900, from L.M. Harris, Commissioner of the U.S. Department of the Interior's Bureau of Education, Mr. Harris addresses Hieromonk Antony: "I am pleased to learn from your letter of April 16 to Dr. Sheldon Jackson that you have accepted appointment as a member of the Local School Committee for the town of Sitka. … Recommendations from these meetings [of the Local School Committee] could then be sent to this Bureau, where they will always receive careful consideration."[9]L.M. Harris, Letter to Rev. Anthony Dashkevich, 14 May 1900,  included in materials from the Library of Congress, dossier on Bishop Antonii Dashkevich, container B-5, microfilm reels 9-10. As can be easily understood from Hieromonk Antony's service to the Diocese, obviously including much beyond Church services and duties, was well known to Bishop Tikhon, and his labors were undoubtedly appreciated. His command of English, as well as his engagement with government and community figures were valuable for the Church in Alaska, his elevation to Igumen in 1903 illustrating this, which, of course, had to have been ordered, or at least, approved, by Bishop Tikhon. Father Antony's service was especially important during this period of the history of the Church in Alaska: Within twenty years of the American takeover of Alaska in 1867, new challenges for the Orthodox Church in Alaska emerged: "Protestant (Presbyterian, Moravian, Quaker, Baptist, Methodist and Episcopalian), and Roman Catholics (regular priests, Jesuits, and other orders) arrived to win souls they believed the Orthodox had imperfectly converted … In the Alaskan case, champions of the white Protestant Anglo-Saxon way such as Sheldon Jackson, Samuel Hall Young, or John G. Brady faced an unusual task: they had to eliminate the cultural and religious layers built up through more than a century of Russian rule and native interaction with 74 years of Orthodox missionary endeavors. … Sheldon Jackson's endeavors in Alaska should be viewed in the context of the contemporary history and his personal experience. He came to Alaska from the American West and the Indian Wars- the Sioux uprisings in the Plains, the Navajo and Apache Wars in the Southwest. He was simply doing to Alaska what his compatriots to the South were doing to the Native Americans there." Obviously used to Government 'assistance' with his missions work, Sheldon Jackson used " … family and political connections, such as President Benjamin Harrison, William Cleveland, brother of President Grover Cleveland, and the Federal Commissioner of Education, John Eaton."[10]Krivonosov, Alexander, "Where East Meets West: A Landscape of Familiar Strangers-Missionary Alaska, 1794-1898" Doctoral Dissertation to the Pennsylvania State University Graduate School, … Continue reading In many respects, again, referencing historical situations at the time, it can be seen as a testament to the faith of the Orthodox Alaskans and the labors of the clergy and missions that Orthodoxy in Alaska survived …
In 1906, Igumen Antony (Dashkevich) returned to Russia, assigned to the Naval Chaplains, and served for a time on the Imperial Yacht. That same year, he was elevated to Archimandrite, and assigned as Dean of the Chaplains of the Baltic Sea Fleet, serving in that position until 1917. After the Bolshevik takeover of Russia, Archimandrite Antony emigrated to Germany, and moved on to Denmark, serving as Rector of the Saint Alexander Nevsky church in Copenhagen from 1919-1921, as well as confessor to the Empress Maria Feodorovna during that time. His sojourn in Copenhagen was brought to an end by another call for duty in America …
"Religious unrest in America began during the First World War, when the North American diocese was ruled by Archbishop Evdokim (Meshchersky) [Basil Meshchersky, 1889-1935,returned to Russia in 1917, later Renovationist Metropolitan of Odessa]. Trying to cope with financial difficulties, Archbishop Evdokiim demanded the transfer of church property of Serbian parishes to the Diocese, which caused a strong negative reaction. Replaced in 1917 by Bishop Alexander (Nemolovsky), [Alexander Nemolovsky, 1876-1960, later Metropolitan of Brussels and Belgium for the Moscow Patriarchate] continued the same policy. Financial crisis, antihierarchical mood and jurisdictional pluralism put the North American diocese into a corner. However, Bishop Alexander's personality-in the opinion of his contemporaries, was one of the associated causes of confusion and anarchy in the Diocese."[11]Kosik, Priest Ilya "РАССЛЕДОВАНИЕ ЕПИСКОПА АНТОНИЯ (ДАШКЕВИЧА): К ВОПРОСУ О ЦЕРКОВНОЙ «СМУТЕ» В СЕВЕРНОЙ АМЕРИКЕ … Continue reading
"… [I]n 1921, information about the problems in the American Church reached Moscow. Patriarch Tikhon decided to send Metropolitan Evlogy [Vasily Georgievsky, 1868-1946] to perform an audit of the North American Diocese. Metropolitan Evlogy avoided the mission."[12]http://internetsobor.org/sinodik-rptcz/istoriia/rptcz/sinodik-rptcz/sinodik-rptcz-episkop-antonii-dashkevich-aliaskinskii-2-15-marta  We have Metropolitan Evlogy's own words describing the entire situation: " … I received a letter from Patriarch Tikhon in which he suggested that I go to the United States to audit the Diocese of North America. Its head, Bishop Alexander, had become so entangled in financial operations relating to church properties that his flock became worried and sent protests. Before the Revolution the Diocese of North America was ruled by Bishop Evdokim. His personal life provided cause for justifiable accusations, and so he took advantage of an opportune pretext – the need to attend the All Russian Church Council – and left America with no intention of returning. He was replaced by the Bishop of Canada, Alexander (Nemolovksy). Following the Revolution, the situation of the Diocese of North America became critical. There were no more subsidies from the Holy Synod [in Russia] … Bishop Alexander, lacking experience of financial matters, listened to certain advisors and mortgaged our churches, including the New York Cathedral. For awhile, this provided clergy salaries, but when the time came to pay off the mortgages, there were no funds. Metropolitan Platon was staying in America as a guest at the time, and couldn't take part in resolving the conflict. The President of the Russian Orthodox Mutual Aid Society, Archpriest Peter Kohanik, sent me money for the trip. I wrote to Metropolitan Platon and Bishop Alexander about the Patriarch's letter and his suggestion that I audit the North American Diocese, but both assured me that my visit was unnecessary. 'For God's sake, don't come, it's not worth it to come here for an audit … Now, if you brought money, that would be another matter,' wrote Metropolitan Platon. And Bishop Alexander stated vigorously that my visit would be pointless. 'Regardless of what such an audit might conclude, I would still remain here, as I have many supporters.' On the basis of these letters, I wrote the Patriarch that under such circumstances I could not fulfill the task laid upon me and suggested that Metropolitan Platon conduct the audit. The Patriarch replied that this would not be expedient, since 'Metropolitan Platon is not disinterested in this matter.' I soon received the following suggestion from our Bishops' Synod: 'Go to America and fulfill the Patriarch's order.' I declined …"[13]Georgievsky, Metropolitan Evlogy "My Life's Journey" Translated by Alexander Lisenko, Saint Vladimir's Seminary Press, Yonkers, N.Y., 2014 2 volumes; pp. 454-455
Metropolitan Evlogy goes on to state his reasons for declining the 'suggestion,' or 'order' of Patriarch Tikhon, as well as clearing up whether it was, indeed, a 'suggestion,' or an 'order.' The Karlovtsy Sobor of 1921 was in the planning stages, to be held that coming autumn. "My diocesan matters were to be discussed at that time as well. Why was it that they wished to get rid of me at that point under a specious excuse? I decided that I needed to be at the conference, and refused to go to America. I realize now that I should have obeyed the Patriarch without question."[14]ibid., p. 45
Obviously dissembling, as well as rationalizing his excuses to avoid going to America, it seems Metropolitan Evlogy was not alone in the hopes of avoiding an audit …  "The 'Church in North America is in complete disarray, much of the Orthodox flock, perhaps most, is extremely agitated against Archbishop Alexander, accusing him of, firstly, Ukrainian separatism, secondly, a careless attitude towards church property, and even immoral life,' wrote Archbishop Theophan (Bystrov, of Poltava, +1940) to Archbishop Evlogy (Georgiesky) … Over time, views … polarized. Later researchers gave a hagiographic nature to the biography of Archbishop Alexander, however, overlooking 'side activities' in North America. Modern critics  give a sharply negative response" to the "hagiography."[15]op. cit. 11, pp. 45-46 Metropolitan Platon himself had 'unpleasant memories' related to audits ordered by higher church authorities. An audit of the Kiev Theological Academy in the aftermath of the 1905 Revolution, which was assigned to then Archbishop Antony (Khrapovitsky), when Metropolitan Platon was Rector of the Academy and Bishop of Chigirinsk, Vicar of the Kiev Diocese, resulted in then Bishop Platon's dismissal as Rector, and subsequent transfer to North America, which supposedly led to hostilities between the two Bishops in exile.[16]http://www.belrussia.ru/pahe-id-1408.html As a consequence of Metropolitan Evlogy's refusal to obey Patriarch Tikhon, "on the proposal of Patriarch Tikhon, a former rector of the Aleutian Mission, then serving in the Copenhagen Russian Embassy Church, Archimandrite Anthony (Dashkevich), was appointed as Bishop of Alaska and the Aleutians," and, as well, to undertake the audit.[17]op. cit. 11, pp. 47-48 "On 11 December 1921, Archimandrite Antony (Dashkevich) was consecrated to the episcopate in Belgrade," in services presided over by Metropolitan Antony Khrapovitsky).[18]op. cit 1
However, previous to 'consulting' with Metropolitan Platon and Bishop Alexander, Metropolitan Evlogy was not as staunchly 'opposed' to going to America to conduct the audit, and was possibly going to perform the consecration of Archimandrite Antony (Dashkevich) to the episcopate himself … in a letter to Archbishop John (Pommer, +1934) of Riga and Latvia, dated 21 August/03 July 1921, Metropolitan Evlogy writes: "Patriarch Tikhon has asked me to send one of the Russian Bishops living abroad to Sitka, Alaska, where there is now an independent mission , and where there is no bishop. The Church Administration Abroad has decided to ordain the Copenhagen Archimandrite Antony, who served in the Aleutian Islands for a long time. It is possible that the consecration will take place in Berlin … If this gets settled, we might send you an invitation, do not refuse." Further, in a letter to Archbishop John (Pommer) dated 13/26 August 1921, Metropolitan Evlogy writes: "I'm probably going to America on the orders of Patriarch Tikhon, to disassemble the disorganization in the Church. This trip is very difficult, morally and materially, but nothing helped. We will have to go." [19]"Part III: Material on the Position of the Orthodox Church in America" [in Russian] online @: www.humanitatis.info/wordowskie/…/castretja.doc
None of the sources say exactly when the newly consecrated Bishop Antony (Dashkevich) traveled to America. Apparently, Bishop Antony went to America early in 1922, and compiled a report to be sent to Patriarch Tikhon. In a letter dated 03/16 June 1922, Metropolitan Evlogy writes to Archbishop John (Pommer): "On behalf of Metropolitan Antony [Khrapovitsky], I'm sending you the following important documents: a) the message of Patriarch Meletios [Metaxakis] of Constantinople to Patriarch Tikhon; b) the report of Bishop Antony [Dashkevich] on the audit of our American Church mission; and c) the letter of Metropolitan Antony [Khrapovitsky] to me, in clarification on the addition of the two previous documents … send it all to Moscow on an appropriate occasion." [20]ibid. 19
Metropolitan Evlogy further comments on Bishop Antony, and his report to Patriarch Tikhon on the situation in North America in his memoirs: "In Copenhagen we had a tiny but very well decorated church and a small parish … its rector was Archimandrite Antony Dashkevich, who had been a naval hieromonk traveling on the imperial yacht. At the beginning, I was well disposed toward him, but after getting a better look at him, I changed my attitude. The Karlovcians summoned him, consecrated him to the episcopate, sent him to Alaska, instructing him to conduct an investigation regarding Bishop Alexander's activities in America. He and Bishop Alexander had old scores to settle. Under the guise of conducting an inquiry, Bishop Antony collected a pile of lowbrow dirt, but never made it to Alaska, returning soon and dying in Yugoslavia."[21]op. cit., 13, p. 502 Yet, Metropolitan Evlogy would have consecrated Antony as a Bishop, and knew very well that his refusal to go to America and conduct the audit as required was why Bishop Antony was sent …
The statement that Bishop Antony (Dashkevich) and Bishop Alexander (Nemolovsky) had "old scores to settle," while interesting, seems to have originated with Metropolitan Evlogy. Bishop Antony was 17 years older than Bishop Alexander; they had both been born in the Province of Volhynia, and both attended the Volhynia Theological Seminary. As Bishop Antony was sent to Simferopol upon finishing the Seminary, it does not seem the "old score" could have possibly originated there; Bishop Antony had been in America already for 5 years prior to Bishop Alexander finishing the Volhynia Seminary and beginning studies at the Moscow Theological Academy. They both served in America, but, the then young priest Father Alexander Nemolovsky only served parishes in Pennsylvania and New Jersey in America, from his arrival, to three years after then Igumen Antony (Dashkevich) departed Alaska to return to Russia; and Antony had only served in Alaska.[22]Model, Priest Sergey "Forgotten Figure of Russia Abroad: Metropolitan Alexander (Nemolovsky, 1875-1960) of Bruessels and Belgium" online @ https://mospat.ru/church-and-time/805 With his categorization of the report of Bishop Antony as "lowbrow dirt," Metropolitan Evlogy evidently, had looked over Bishop Antony's report to Patriarch Tikhon before sending it on to the Patriarch via Archbishop John (Pommer). If it was such "lowbrow dirt," seemingly conspired by "the Karlovicans," why send it on? Would Archbishop John read it? Patriarch Tikhon would have certainly been apprised of its contents … Would the "lowbrow dirt" make Bishop Alexander look bad? Or "the Karlovcians?" And, in 1922, Metropolitan Evlogy, without a doubt, was a "Karlovcian" himself!
Unfortunately for Archbishop John in Latvia, the correspondence with Metropolitan Evlogy on the subject was not the limit of his 'involvement.' In a letter dated 07 December 1923, Metropolitan Platon (Rozhdestvensky, +1934) writes Archbishop John: "I am besieged here, and waging a fierce battle with me, are, God forgive me, the Bishops Antony (Dashkevich), Adam (Filippovsky), and the 'Metropolitan' Kedrovsky [a Renovationist 'Living Church metropolitan'], who arrived with a klobuk on his head, and his wife behind. It is time to rescue the Church from Bishops." In a letter dated 15 April 1924, Metropolitan Platon writes to Archbishop John that he was aware that "you sent forward the audit of 'Bishop' Antony. Believing you to be somewhat familiar with this 'report,' I will offer myself to the punishment of being defrocked: This rascal wearing Bishop's hat given to him by the Karlovicans was a perfect atheist for three years, lived in Boston, was not once in church … now he has resigned, not reaching Alaska three years after his appointment to the diocese. But God is with him." Further, in letters of 03 June, 05 June, 03 July, 03 August, more letters condemning Bishop Antony and the 'Karlovcians' in even harsher language. In a letter of 27 August 1924, Metropolitan Platon complains to Archbishop John about Archbishop Theopahn (Bystrov), apparently for his statement on the Church in North America above, stating, "He once gave Rasputin to Russia, and now, with so much soul, and not thinking and without batting an eye, has taken an important new direction: the destruction of our Church … Karlovci is true to themselves: they send here a well known atheist, a drunken adventurer, to audit, and in his report showed a touching concern for Evdokim Meshchersky [former first hierarch of the North American Diocese mentioned above, at the time of this letter a Metropolitan for the Renovationist 'Living Church'], lied about me, catering to Metropolitan Antony." [23]ibid. 19 The letters to Archbishop John go on, more of the same, with vile accusations not worth repeating. If Bishop Antony's report was, indeed, 'lowbrow dirt,' the accusations in these letters are, unfortunately, absolute filth.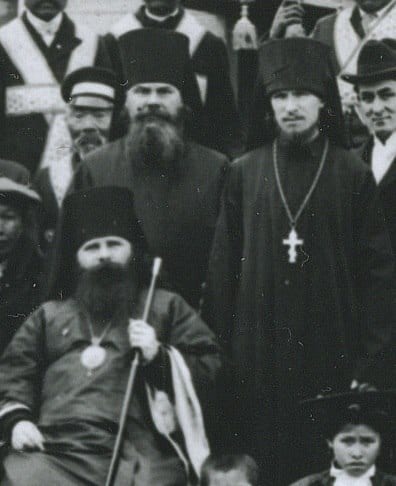 In 1922, Bisop Antony (Dashkevich) was retired due to illness. There is no information available concerning him after that date, except that he reposed due to a 'brain hemorrhage' on 15/28 March 1934, in Kazanlik, Bulgaria, in a public hospital. He was buried in the cemetery of the Russian Memorial Church of the Nativity of Christ, part of a complex in memory of the Russian and Bulgarian soldiers who died for the liberation of Bulgaria from the Ottomans in the Russo-Turkish War of 1877-1878.
Grant rest, O Lord, to the soul of Thy departed servant!
All dates for vital statistics, education, service to the Church, etc., are from Wikipedia, unless otherwise noted.
References

↵

1

http://pravbeseda.ru/library/index.php?page=book&id=741

↵

2

http://drevo-info.ru/articles/11865.htmil

↵

3

http://drevo-info.ru/articles/15730.htm

↵

4

http://orthodoxwiki.org/Nicholas_(Ziorov)_of_Warsaw

↵

5

http;//orthodoxcanada.ca/Metropolitan_Innocent_(Pustynsky)

↵

6

Smith, Barbara "Index to the American Orthodox Messenger," p.455, Volume 7, 1903, included in materials from the Library of Congress, dossier on Bishop Antonii Dashkevich, container B-5, microfilm reels 9-10.

↵

7

Smith, Barbara, ibid.., pp. 455-462

↵

8

Golubov, Protopriest Alexander, "The Alaskan Vicariate," in Volume II of The Orthodox Encyclopedia, Moscow, 2002.

↵

9

L.M. Harris, Letter to Rev. Anthony Dashkevich, 14 May 1900,  included in materials from the Library of Congress, dossier on Bishop Antonii Dashkevich, container B-5, microfilm reels 9-10.

↵

10

Krivonosov, Alexander, "Where East Meets West: A Landscape of Familiar Strangers-Missionary Alaska, 1794-1898" Doctoral Dissertation to the Pennsylvania State University Graduate School, Department of History and Religious Studies, 2008. Online @ 

https://edta.libraries.psu.edu/paper/8358/3687,

pages 66-69

↵

11

Kosik, Priest Ilya "РАССЛЕДОВАНИЕ ЕПИСКОПА АНТОНИЯ (ДАШКЕВИЧА): К ВОПРОСУ О ЦЕРКОВНОЙ «СМУТЕ» В СЕВЕРНОЙ АМЕРИКЕ (1915–1924)" p. 46 Online @:

http://christian-reading.info/data/2012/02/2012-02-02.pdf,

p. 45

↵

12

http://internetsobor.org/sinodik-rptcz/istoriia/rptcz/sinodik-rptcz/sinodik-rptcz-episkop-antonii-dashkevich-aliaskinskii-2-15-marta

↵

13

Georgievsky, Metropolitan Evlogy "My Life's Journey" Translated by Alexander Lisenko, Saint Vladimir's Seminary Press, Yonkers, N.Y., 2014 2 volumes; pp. 454-455

↵

14

ibid., p. 45

↵

15

op. cit. 11, pp. 45-46

↵

16

http://www.belrussia.ru/pahe-id-1408.html

↵

17

op. cit. 11, pp. 47-48

↵

18

op. cit 1

↵

19

"Part III: Material on the Position of the Orthodox Church in America" [in Russian] online @: www.humanitatis.info/wordowskie/…/castretja.doc

↵

20

ibid. 19

↵

21

op. cit., 13, p. 502

↵

22

Model, Priest Sergey "Forgotten Figure of Russia Abroad: Metropolitan Alexander (Nemolovsky, 1875-1960) of Bruessels and Belgium" online @ 

https://mospat.ru/church-and-time/805

↵

23

ibid. 19