Archbishop Alexei (Panteleev) was a ROCOR Bishop from the time of the 1935 reconciliation with the North American Metropolis, to 1945, when he joined the Moscow Patriarchate along with Bishop Makary (Ilyinsky, +1953).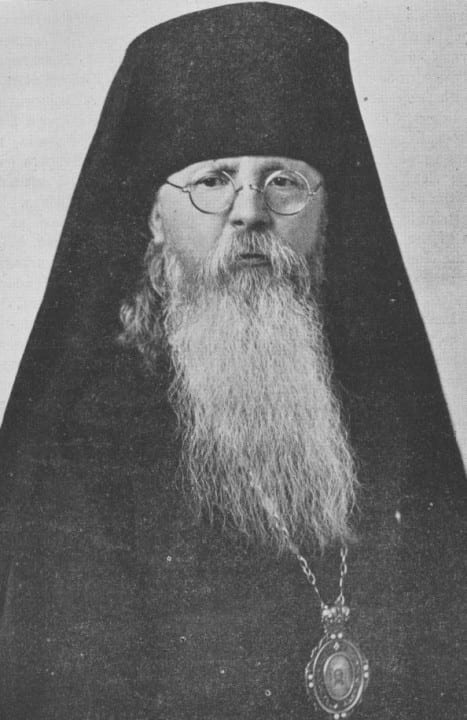 Archbishop Alexei (Panteleev) was born on 27 October 1874 in the village of Novodvorsk, in the Solvychegodsk county of Vologda Province, to a peasant family [1]All dates for vital statistics, education, service to the Church, etc., are from Wikipedia, unless otherwise noted . In 1895, he graduated from the Archangelsk Seminary at the top of his class, and was sent on to the Saint Petersburg Theological Academy on scholarship in June 1895. He studied at the Academy for a year, when he petitioned to be released due to family hardship, and left to assist his family in October, 1896. In November, 1896,  he was appointed as instructor of geography and church singing in the Ustiug Diocesan Women's College, where he taught church singing until August 1899, and geography to February 1903. He also taught church singing in the diocesan school from October 1897 until February 1903. At the same time he taught church singing courses for students in parish schools of the Veliki Ustiug vicariate in the summers of 1898, 1899, 1902 and 1903, and the Veliki Ustiug spiritual school from August, 1898, to December, 1900.
On 1 October 1901, he married Sofia Petrovna Pyatlinoy. On 22 October 1901 he was ordained a deacon, and the next day, was ordained to the priesthood, and served at the Saint Mitrofan prison church in Veliki Ustiug. In December, 1902, he was assigned as priest, then rector, of the Church of the Resurrection in Veliki Ustiug, directed church choirs, and also taught church singing. From January, 1903 to May, 1909, served on the Veliki Ustiug spiritual court. Later in 1909, he was transferred to the Diocese of the Aleutians and North America. [2]http://zarubezhje.narod.ru/av/a_037.htm
On arrival in North America, then Father Alexander Panteleev was assigned to a parish in Unalaska, the port city of Unalaska Island, one of the Aleutian Islands. The Church of the Ascension was but in Unalaska in 1825 by Saint Innocent of Alaska. In 1912 he was transferred to Pittsburgh, Pennsylvania. In October of 1912 he was appointed assistant dean of Pittsburgh Deanery. In August of 1913, he was transferred to the city of Bridgeport, Connecticut. In March of 1914, he was assigned as Dean in Bridgeport. In November of 1914, he founded the church of Saint Spiridon in Perth Amboy, New Jersey, and became the Rector. In February of 1916, he was appointed head of the Russian Emigre Home in New York. He taught Russian in Russian Women's College in Brooklyn beginning July of 1916, and  taught dogmatic and moral theology at New York Theological Seminary. In December of 1916, he was elevated to Archpriest. In April 1917, he was transferred back to Alaska, where he served at Cathedral of Saint Michael in Sitka. Widowed in 1921,  he was tonsured a monk in 1925 with the name Alexei, and was elevated to Archimandrite. [3] ibid.
Due to financial, and other problems within the Russian Orthodox Diocese of the Aleutians and North America, in 1921, Patriarch Tikhon sent Bishop Antony (Dashkevich, +1934) to North America to conduct an audit of the Diocese. Both Bishop Alexander (Nemolovsky, +1960, later Metropolitan of Brussels and Belgium for the Moscow Patriarchate) and Metropolitan Platon (Rozhdestvensky, +1934, Archbishop of the Diocese of the Aleutians and North America from 1907-1914), then in the United States as a visiting guest, objected strenuously. [4]see the Biography of Bishop Antony (Dashkevich) @ www.rocorstudies.org/test After the audit was sent on to Patriarch Tikhon, Bishop Alexander, who had recognized the jurisdiction of ROCOR over the Diocese, left North America. Acting on the recommendation of the "Supreme Church Administration Outside of Russia," Patriarch Tikhon confirmed Metropolitan Platon as the new head of the Diocese, when Mr. Colton of the YMCA, acting as Metropolitan Platon's representative, visited Patriarch Tikhon in Moscow. [5] Holy Transfiguration Monastery, "A History of the Russian Church Abroad, 1917-1971" Seattle, 1972, p. 69
In February of 1923, Bishop Apollinary (Koshevoi, +1934), then overseeing the Russian Ecclesiastical Mission in Jerusalem on behalf of ROCOR, was transferred to North America. In February of 1924, he was appointed as Bishop of Winnipeg, Canada, and in December of 1924, as Bishop of San Francisco, in both appointments, acting as a Vicar of Metropolitan Platon. [6] op. cit., pp. 79-80
Bishop Apollinary was invited to attend a Council of Bishops of the North American Diocese  which was held on 31 January 1927; during which an "Appeal" to the North American flock was issued, declaring the Russian Orthodox Church Outside of Russia as "uncanonical." Bishop Apollinary remarked that, "All the hierarchs approved this 'appeal' to the American flock. I alone did not agree with them. I declared that I did and do acknowledge the Synod of Bishops [of ROCOR] as canonical, both in origin, and its present form; that I did and do submit to it as a judicial administrative authority, that I deny the right of the American diocese to 'ecclesiastical self-determination.'" When Bishop Apollinary would not change his mind, he was removed from his position as Vicar Bishop of San Francisco, and as Rector of the San Francisco church. Metropolitan Platon was subsequently suspended by ROCOR. 5 On 06 February 1927, Archimandrite Alexei (Panteleev) was consecrated to the episcopate as Bishop of San Francisco, replacing Bishop Apollinary. [7]http://www.pravenc.ru/text/64676.html
On 10 June 1928, Bishop Alexei consecrated the Church of Saint Nicholas the Wonderworker in Seattle, Washington. [8] http://stnicholasportland.org/about/parish-history/ In 1929 he consecrated the Church of the Holy Myrrhbearers in Sacramento, California. [9]http://www.holy-women.com/pages/inrec_list_ru.php Bishop Alexei was appointed Bishop of the Aleutians and Alaska in November of 1934 by Metropolitan Feofil (Pashkovsky, +1950), who succeeded Metropolitan Platon after his repose on 20 April 1934. [10] op.cit., 6
In 1935, Patriarch Varnava (Rosich, +1937) of Belgrade and Serbia invited the heads of the Dioceses that had left ROCOR in 1926- Metropolitan Evlogy (Georgievsky, +1946) of Paris and Western Europe, and Metropolitan Feofil of America and Canada, to travel to Belgrade and attempt to reunite them with  ROCOR. As a result, the Four Metropoiitan Districts, of the Near East, the Far East, Western Europe, and North America, returned to unity, all hierarchs involved signing a Statute, according to which, "The Russian Orthodox Church Abroad, consisting of the dioceses, missions, and churches located outside the borders of Russia is an inseparable part of the Russian Orthodox Church, temporarily existing on autonomous principles," and that "the highest legislative, judicial and administrative organ of the Russian Orthodox Church Abroad is the Council of Bishops who gather yearly, and its executive organ is the Holy Synod of Bishops." [11] op. cit. 4, pp. 88-89
At the December 1937-January 1938 Council of Bishops of ROCOR, Bishop Alexei (Panteleev) delivered a report on various articles from Russian Orthodox newspapers in America that had suggested adopting the new calendar, and that the partial introduction of Russian language into the Divine Services. Bishop Alexei stated unambiguously that he did not support either. The Council decided to refuse to allow any such changes. Bishop Alexei was named as member, and representative of the North American Metropolitan District on the Synod of Bishops until the next Council of Bishops was convened. [12] Minutes of the 1937 ROCOR Council of Bishops
In 1939, at the session of the Council of Bishops of the North American Metropolitan District of ROCOR meeting in New York, Metropolitan Feofil placed on the agenda the "question of the canonization of Father Herman [of Alaska]. The report of Bishop Alexei of the Aleutians and Alaska was read. After discussion it was decreed: To approve the report of Bishop Alexei concerning the canonization of Father Herman; To entrust a committee, composed of three: Archbishop Tikhon [Trotsky, +1963, of San Francisco], Bishop Alexei [Panteleev], and Bishop Leonty [Turkevich, +1965, successor of Metropolitan Feofil after his repose in 1950; the North American Metropolitan District had seceded from ROCOR again in 1946], the investigation of the life and miracles of Father Herman, inviting, at their discretion, laymen to participate on this committee; to issue a Life of Father Herman;  and, to publish in the Church periodical press material on Father Herman and his miracles." In the same year, a discussion of the canonization of Father Herman was held in Sremtsi-Karlovtsy under the presidency of Metropolitan Anastassy (Gribanovsky, +1965) "According to Archimandrite Gerasim (Schmaltz), Bishop Alexei collected much very valuable information concerning Father Herman's life, and wrote down many testimonies miraculous signs from him." [13]"A Century of the Veneration of Father Herman," The Orthodox Word, May-June 1969, Orthodox Christian Books and Icons, San Francisco, CA, pp. 118-119
In 1941, Bishop Alexei went into retirement at Saint Tikhon's Monastery in South Canaan, Pennsylvania. In 1942, he accepted appointment as the Assistant Dean of Saint Tikhon's Seminary, and succeeded Archbishop Arseny (Chagovtsev, +1945) as Dean upon Archbishop Arseny's repose.
In late 1944, the North American Metropolia decided to send representatives to the enthronement of the new Patriarch of Moscow, Alexei I of Moscow (Sergey Simansky, +1970), which took place on 4 February 1945. Subsequently, "Bishop Alexei of Alaska, two archpriests, and a legal expert were dispatched to Moscow."  Due to the fact that WWII was still underway at the time, the North American Metropolia's delegation, which was also to take part in the Local Council of the Russian Church held a the same time, due to travel difficulties, arrived too late for the enthronement and the Council. Bishop Alexei, however, did deliver a report on the situation in North America to the newly enthroned Patriarch Alexei. This report resulted in an Ukaz from Patriarch Alexei outlining conditions for the North American Metropolia to "unite with the Mother Russian Church." The North American Metropolia refused these conditions. [14] op. cit., 4, p. 96
In January of 1946, Bishop Makary (Ilyinsky, +1953, later the Moscow Patirarchate's Patriarchal Exarch in North America) of Brooklyn, and Bishop Alexei (Panteleev) of Alaska, joined the Moscow Patriarchate, "which was met with an anathema by the [North American] Metropolia." [15] http://religion.wikia.com/wiki/Makary_(Ilyinsky)_of_New_York
In October of 1946, Bishop Alexei returned to the Soviet Union, and on 28 November 1946, he was elevated to Archbishop by Patriarch Alexei I, and assigned to the Diocese of Omsk and Tarsk. In May of 1947, parishes in the Tyumen region were added to the diocese, which resulted in a change of his title to Archbishop of Omsk and Tyumen. [16]http://dic.academic.ru/dic.nsf/ruwiki/1724488 It was reported that while serving in Omsk, Archbishop Alexei was "constantly watched by the NKVD." [17]http://www.omsktime.ru/projects/church/krestovoz.html Archbishop Alexei (Panteleev) reposed on 11 September 1948, and was buried in the Old Cemetery in North Omsk. [18]http://omsk-eparhiya.ru/епархия-сегодня/история-епархии/
Interestingly, Archbishop Alexei had both a predecessor, and successor in the Omsk Diocese that also served in ROCOR. Archbishop Sergey (Petrov, +1935) served as Bishop of Omsk and Semipalatinsk (as the diocese was named then) from 1901 to 1903. [19]https://www.rocorstudies.org/church-people/lives-of-bishops/2010/11/26/archbishop-sergei-of-chernomorsk-and-novorossisk-2/ Archbishop Yuvenaly (Kilin, +1958), who had served ROCOR as a bishop in Manchuria, succeeded Archbishop Alexei in the Omsk-Tyumen Diocese.
Grant rest, O Lord, to the soul of Thy servant
References

↵

1

All dates for vital statistics, education, service to the Church, etc., are from Wikipedia, unless otherwise noted

↵

2

http://zarubezhje.narod.ru/av/a_037.htm

↵

3

ibid.

↵

4

see the Biography of Bishop Antony (Dashkevich) @ www.rocorstudies.org/test

↵

5

Holy Transfiguration Monastery, "A History of the Russian Church Abroad, 1917-1971" Seattle, 1972, p. 69

↵

6

op. cit., pp. 79-80

↵

7

http://www.pravenc.ru/text/64676.html

↵

8

 

http://stnicholasportland.org/about/parish-history/

↵

9

http://www.holy-women.com/pages/inrec_list_ru.php

↵

10

op.cit., 6

↵

11

op. cit. 4, pp. 88-89

↵

12

Minutes of the 1937 ROCOR Council of Bishops

↵

13

"A Century of the Veneration of Father Herman," The Orthodox Word, May-June 1969, Orthodox Christian Books and Icons, San Francisco, CA, pp. 118-119

↵

14

op. cit., 4, p. 96

↵

15

http://religion.wikia.com/wiki/Makary_(Ilyinsky)_of_New_York

↵

16

http://dic.academic.ru/dic.nsf/ruwiki/1724488

↵

17

http://www.omsktime.ru/projects/church/krestovoz.html

↵

18

http://omsk-eparhiya.ru/епархия-сегодня/история-епархии/

↵

19

https://www.rocorstudies.org/church-people/lives-of-bishops/2010/11/26/archbishop-sergei-of-chernomorsk-and-novorossisk-2/