Helena Kojevnikov, known as Alyona Kojevnikov in her career as a journalist and broadcaster, was born in 1943 in Yugoslavia, into a family of Russian Orthodox White Russian emigres. Her earliest memories from post-war refugee camps in the American zone of occupied Germany (Moenchehof and Schleissheim) include recollections of the life of the ROCOR in both places, and personal recollections of some priests (the then Fr Mitrofan Znosko in the Moenchehof camp) and bishops Athanasius and Panteleimon (in Schleissheim) as the family was very close to the Church and her grandfather was a lay member of the ROCOR Synod. The family emigrated to Australia in 1950, and the close association with the Church remained firm. Alyona graduated from Melbourne University with a double major in Russian Language and Literature, and several years later was invited to work on the Russian news desk of Radio Liberty in Munich. Among her duties was contributing to religious programming. In 1978 she was invited to the UK by Keston College, a distinguished research institution on the situation of religious believers in communist countries. She set up and headed the Information Service of the College for 12 years, and at the same time was on loan to the BBC Russian Service to present and co-author the weekly Russian language religious program together with the late Archbishop Basil (Rodzianko) and Metropolitan Anthony (Bloom) of Sourozh. She was also frequently invited to comment on religious, political and social matters in the USRR on television and radio. Subsequently she was recruited once more by Radio Liberty as its London correspondent, and a year later was appointed Bureau Chief of the first Radio Liberty Bureau in Moscow. At the same time, she continued to present and co-author RL's religious program "Not By Bread Alone." Having been granted a security clearance by the UK Foreign and Commonwealth Office, she has acted as personal interpreter for the then Prime Minister Margaret Thatcher, the former Archbishop of Canterbury Robert Runcie and similar high-ranking persons. In 2013 she retired to the historic town of Rye in the county of East Sussex in the UK, where she continues to maintain her studies on some aspects of the Orthodox Church and medieval English history.
Alyona shared her memories of Metropolitan Anthony with Deacon Andrei Psarev, an instructor at the Holy Trinity Seminary in Jordanville, USA. This interview was conducted in Russian and translated into English by Aloyna. We publishing this abbreviated translation here with kind permission of Sourozh 110 (2014), where this interview was published.
Deacon Andrei Psarev: Alyona, your work took you to London, –  where you began attending the parish of the Russian Orthodox Church Outside Russia (ROCOR), and at the same time, as a journalist, you began to participate in BBC Russian religious broadcasts, the central figure of which was Metropolitan Anthony. This was a unique form of preaching the Gospel to millions in the then USSR. You grew up in an emigre environment, the grand-daughter of "White" emigres who were firm adherents of the ROCOR. Yet now you encountered a priest of the "Soviet" church, and discovered in him an image of Christ. This story is very unusual as it 'breaks the mould5 as one might say.
Alyona Kojevnikov: I first met Metropolitan Anthony in 1978 when I came to work for Keston College, an institute for the study of religion in communist countries, founded by an Anglican priest, Michael Bourdeaux. I went to the ROCOR parish in London because I was born into and grew up in that church. Literally a few weeks later the wife of Father Vladimir Rodzianko (later Archbishop Vasili) died suddenly. She had been the previous presenter of the BBC religious programme, and I was asked to take over this position because of my previous experience of religious broadcasting with Radio Liberty. Metropolitan Anthony's weekly talks were the keystone of the BBC programme, and this brought me to the cathedral at Ennismore Gardens for the first time.
You know, just one meeting with Metropolitan Anthony was enough to stay with you for the rest of your life. To me he was, and is, "the pillar and affirmation of Truth." Like Saint Seraphim of Sarov, he greeted one and all with genuine joy. I have never encountered anyone like him, either before or since. He was like a ray of light that illuminated everyone he encountered.
At first I thought that I would find it hard to deal with a church of the Moscow Patriarchate due to my ROCOR background. But just at that time the ROCOR parish in London was in difficulties because the lease to the premises they had been using had run out and could not be renewed. Land had been purchased in Chiswick for the building of a new church, but construction had not yet begun. [1]The Cathedral of the Dormition of the Mother of God and the Royal Martyrs in West London (Chiswick) was opened in 1999. I have been going to church all my life, and for me life without church was an unfulfilled existence. So naturally, I began attending services at Ennismore Gardens, [2]Moscow Patriarchate church where Metropolitan Anthony served; after all, there were no canonical differences to overcome, and surely it is more important to pray to God more, and worry less about ephemeral political divisions.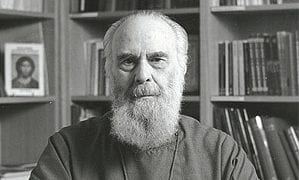 Metropolitan Anthony created a unique parish, I have never encountered anything like it; in all the 15 years that I was a regular parishioner, I do not recall any disagreements, squabbles or intrigues. Hard to imagine, I agree, but there it is. The Metropolitan Archbishop Anthony would not have allowed it, so it didn't happen. There is a rather crude Russian saying: "Kakov pop, takov prikhod" – as is the priest, so is the flock – and I think he inspired us to try to be like him insofar as we could. Metropolitan Anthony was both charitable and broad-minded; for instance, in his attitude to the ROCOR. He used to say that the Jordanville publication programe was vastly superior to that of the Moscow Patriarchate. He said that "for its publishing work alone, the ROCOR is dear to God." He knew the worth of this mammoth task.
As head of the Information Department of Keston College, I monitored the situation of all believers in the USSR and other communist countries, irrespective of denomination, but it stands to reason that my personal interest centered on the fate of the ROC in the USSR. At that time there were numerous prisoners of conscience. For example, Father Dmitri Dudko was in prison and there were many others suffering for their faith. We decided to organize a special service of intercession for them all, and Metropolitan Anthony agreed to officiate. As always, his sermon was moving and profound, mentioning the names of all the prisoners on the list we drew up. I don't know how true this is, but I did hear from various sources that the Metropolitan was reprimanded severely by the Moscow Patriarchate for his participation, as the service was widely reported in the press.
AP: At the Church Council in 1970, Metropolitan Anthony and Archbishop Vasili of Brussels and Belgium [3]Archbishop Vasili of Brussels and Belgium (Vsevolod Krivoshein, 1900-1985) left Russia with the forces of the White Army in 1919. He was tonsured a monk in the Russian Monastery of St Panteleimon on … Continue reading spoke forcibly against the harsh sanctions concerning the ROCOR, "because our churches live side by side, and it will only exacerbate the situation if the ROCOR is anathematized, or similar". So our emigres who belonged to the Moscow Patriarchate were vocal in their opposition to such restrictive measures.
AK: Metropolitan Anthony explained his position regarding the ROC in the USSR by pointing out that it was a Church under duress and still suffering various forms of persecution. You cannot abandon your mother, he would say, even if she has sunk to the lowest depths or is lying in the gutter, for that is when she most needs your love and support. He took a very firm stance on this, even if it was disputed by many. And in maintaining this position I never once heard him, in all the years I knew him closely, to utter a hostile word against the ROCOR.
AP: People say that Metropolitan Anthony was a confirmed monarchist.
AK: Yes, he was. We discussed this matter a number of times, because my grandparents were monarchists, and I'm not. I had given the Metropolitan some bound annual volumes of The Orthodox Way [4]Pravoslavnyi Put' was the annual theological and philosophical publication of the Holy Trinity Monastery in Jordanville (USA). published by Jordanville. In my turn, I got them from the late Archbishop Laurus [5]Metropolitan Laurus of America and New York (1928-2008), from 2001 the First Hierarch of the Russian Orthodox Church Outside Russia. for sending them and other religious literature into the USSR by various means. Some of these volumes contained diaries and letters written by Tsar Nicholas II and the Empress during their captivity by the Bolsheviks. Soon afterwards, Metropolitan Anthony asked me whether I had read those diaries carefully. When I admitted that I had not, he said: "You may consider them from a political point of view, criticize what should or should not have been done, but after reading these diaries you will agree that it was right to glorify them among the New Martyrs, no matter what their human frailties might have been. Their enlightenment and illumination shines from these diaries and letters. Yes, I'm a monarchist, and always will be."
DAP: In other words, he respected the Tsar?
AK: Yes, undoubtedly. He said to me: "Sit down and read these diaries without prejudice, not from the viewpoint of a politician or historian, just see them as a manifestation of someone's soul."
DAP: You have said that Metropolitan Anthony observed the vow of poverty in full, that he had no possessions.
AK: Yes, that's true. I'm a monk, he would say by way of explanation. My husband also worked on the BBC religious programs and sometimes recorded the Metropolitan's talks in his tiny cell behind the altar at the cathedral. He told me that the cell held only a single folding bed, a bedside table and a pair of slippers. There are many underground rivers and streams in London, and one such waterway was right under the Metropolitan's cell. At regular intervals, an automatic water pump would come on below – Ka-boom! Ka-boom! Ka-boom! I once asked Metropolitan Anthony why couldn't some better quarters be arranged for him, and his reply was: "What do you mean? I'm a monk, I have renounced worldly goods and comforts. I have everything I need right here." Yes, he was a true monk.
Not long after we had started working together, he said to me: "Do you know, I have suddenly become terribly rich. I now receive my UK pension!" I should clarify that priests' pensions were a pittance; you needed a magnifying glass in one hand to see your pension in the other. Of course, he didn't keep it. I found out later that he was distributing it all among needy parishioners.
Many times when I came to the cathedral to tape the Metropolitan's talks, I would find him down on his hands and knees, scraping candle wax off the church floor. When I ventured to suggest that perhaps someone else should do that – the sisterhood, perhaps? – he seemed genuinely surprised. "But I live here," he said, "so it's up to me to keep everything in good order." He had absolutely no wish for any luxuries or pampering. He thought it was perfectly natural for him to keep his home tidy. Show me another metropolitan who would crawl around the floor cleaning up candle wax. I don't believe there are any!
DAP: I think our Metropolitan Hilarion might.
AK: Yes, on consideration, he probably would. Though I don't think our parishioners would let him, thank God.
DAP: It is sometimes said that there was a certain cult around Metropolitan Anthony. What would you say to that?
AK: I'm sure that the Metropolitan did everything possible to nip such initiatives in the bud. I've read that there was a similar movement regarding St John of Kronstadt in his day, and that he rigorously suppressed any attempts to turn him into a cult figure. When I was in Moscow, I recall seeing a TV programme about Russians in London, in which the Metropolitan's death was mentioned. I had often heard many of the old emigres say that they wanted to be buried
in Russian soil, and asked Metropolitan Anthony what his wishes would be. He replied very firmly: "It makes absolutely no difference to me, as I'll no longer need this body. But God forbid that someone should place an elaborate tombstone over my grave. Are they afraid that I'll climb up out of my coffin if they don't weigh me down?" In the same programe there was an interview with a Russian man, who clearly never knew Metropolitan Anthony, standing by his grave at the Old Brompton Cemetery and saying indignantly: "What's this? Are you saying that this is a fit grave for a metropolitan? Just some earth and flowers? We need to put up a proper MONUMENT!!!" Thank God no such scheme ever came to fruition. The cemetery is a very old one, and when you walk down the central avenue, flanked on both sides by old grey tombstones, at the very end you see a splash of bright color among the greyness – that is the Metropolitan's grave, like a welcoming beacon because there are always flowers on it.
DAP: Alyona, thank you for sharing your memories with us. In your opinion, what lesson did Metropolitan Anthony leave us in terms of our relations with people? What did he teach?
AK: He made everyone feel that they mattered; that they were important, as we are all important to Christ. He reminded us all, and you could feel it, that you are not a mere cog in the scheme of things, but that you have value in the great tapestry of Creation. And you would immediately walk taller. That is worth a great deal.
DAP: Thank you so much, Alyona. May God grant you long life and strength. I'm delighted to have talked to you, and hope that we shall talk again.
AK: Thank you, Father Andrei.
Jim Forest, "Remembering Metropolitan Anthony Bloom," In Communion, 31 (2003) http://jimandnancyforest.com/2008/02/metropolitan-anthony/ (Feb. 7, 2015)
References

↵

1

The Cathedral of the Dormition of the Mother of God and the Royal Martyrs in West London (Chiswick) was opened in 1999.

↵

2

Moscow Patriarchate church

↵

3

Archbishop Vasili of Brussels and Belgium (Vsevolod Krivoshein, 1900-1985) left Russia with the forces of the White Army in 1919. He was tonsured a monk in the Russian Monastery of St Panteleimon on Mount Athos. His ordination as Bishop of the Belgian See of the Moscow Patriarchate was celebrated in 1959 in London.

↵

4

Pravoslavnyi Put' was the annual theological and philosophical publication of the Holy Trinity Monastery in Jordanville (USA).

↵

5

Metropolitan Laurus of America and New York (1928-2008), from 2001 the First Hierarch of the Russian Orthodox Church Outside Russia.