Archbishop Aftimios (Ofiesh) is perhaps the most controversial figure in the history of Orthodoxy in North America. Also, perhaps, exemplary of the questionable episcopal consecrations and/or assignments that seemed to play a large, and often unfortunate part, in the history of Orthodoxy in North America in the early 20th century. Aftimios was counted as a hierarch of ROCOR only from the recognition of ROCOR's jurisdiction in America by Bishop Alexander (Nemolovsky, +1960) early on, to the schism of the North American diocese from ROCOR in 1927. Deposed, resigned, never left his post … 'depending on who you ask,' Aftimios subsequently ventured light years from the farthest borders of canonical Orthodoxy. His legacy remains as a plethora of organizations using the name 'Orthodox,' but possessing not even a remote connection to the Orthodox Church. Many of these organizations regard Aftimios as a 'Saint and Martyr,' who freed Orthodoxy in America from 'foreign domination,' complete with 'icons' of Aftimios that illustrate this phenomenon. Aftimios "was also a brilliant, energetic churchman, victim not only to his personal failings, but also to the ecclesiastical turbulence of his time … the history is complicated, though fascinating."[1]http://orthodoxhistory.org/2012/07/25/the-death-of-aftimios-ofiesh/
Abdullah Ofiesh was born to the family of Father Gabriel Ofiesh and his wife, Badrah, on 22 October 1880, in Bikfayya/al-Muhaydathah, Lebanon, then within the Ottoman Empire. The sixth of ten children, his name, Abdullah, is Arabic for "Servant of God." While the rest of the Ofiesh children attended the local village school, the young Abdullah was attracted to the Byzantine music classes at the Monastery of Saint Elias Shurwaya. At the school, the Abbot of the Monastery, Father Mattais, invited his student to become a novice at the Monastery. He accepted. His father did not agree with the decision and took him home after arguing with the Abbot about the propriety of one so young making a life-long decision. After a lecture on the hardships of monastic life by his older brother, Dimitri, who was a lawyer, the young Abdullah could not be swayed. The family decided that he should first attend 'the best clerical seminary' in Syria and Lebanon, the Middle Eastern Orthodox Ecclesiastical Seminary. Founded and directed by Bishop Damascene Gabriel (Shatilla) of Lebanon and Beirut, it boasted an eminent and learned faculty, and a 'broad liberal curriculum.' At the seminary, Abdullah Ofiesh organized a student organization, which 'he hoped would stimulate them to sustained progressive and productive endeavors.' The name of the group was 'The Young Syrians.' A periodical named 'The Balance of Justice' was undertaken, and this joint venture was to 'provide for the free expression of thinking,' and the inception of 'student generated, controlled, and directed activities.' The future Archbishop Aftimios also hoped 'the status of their backward school would be upgraded to that of contemporary schools.'[2]Ofiesh, Marian Namey, Archbishop Aftimios Ofiesh, 1880-1966, A Biography Revealing HIs Contribution to Orthodoxy and Christendom, 1997, pp 8-10
"The principles, objectives, and bylaws were outlined and submitted for approval through [Father] Musa Kattini, the headmaster … He not only denied approval, but ordered the dissolution of the organization, forbidding any related activities. Bitterly resenting the tyrannical restriction, the students decided to disregard the suppressive unjust decree although fairly certain such a course would result in punitive action."[3]ibid., p. 12 "After the students refused to abandon their efforts, the headmaster finally allowed them to form a student association with more moderate aims."[4]Morris, Archpriest John Warren, The Life of the Thrice-Blessed Archbishop Aftimios Ofiesh, online @ http://almoutran.com//2011/03/326
After graduating from the Seminary in 1898, Abdullah Ofiesh decided to forego an opportunity to further his education at the Kiev Theological Academy, and chose instead to take a position assisting Bishop Gabriel (Shatilla) in Beirut, where he was apparently tonsured as a monk, 'took the name Aftimios,' after Saint Euthymius the Great, and was ordained to the diaconate. He served in Beirut until the death of Bishop Gabriel in 1900, at which time he was appointed as Archdeacon of Latakia by Bishop Arsanius (Haddad, later Patriarch Gregory IV of Antioch). "However, as had been the case in seminary, Aftimios, who became a priest in 1902, began to agitate for reform. Early in his service at Latakia, he organized a society of theology students and young clergy to work for reform within the Patriarchate of Antioch. As had been the case during his efforts to form a similar organization while in seminary, Father Aftimios chose to call his society, 'The Young Syrians.' However, once again, his superiors refused to allow Aftimios to carry out his plans. Despite the endorsement of Bishop Arsanius, Patriarch Meletius II [of Antioch] threatened to excommunicate the priest and his friends if they did not abandon their efforts. A few years later, Father Aftimios once again championed the cause of reform … Aided by … several other young students and clergyman, he formed a fellowship dedicated to the modernization of the administration of the Patriarchate and its monastic establishments. Aftimios and friends also hoped to establish a graduate school of theology, thereby ending the dependence of the Church of Antioch on Greek and Russian institutions for advanced theological education. Once again, the young reformer met with stiff resistance from Patriarch Meletius II. Faced [again] with the threat of excommunication, Ofiesh had no choice but to abandon his third effort … for progressive programs within the Church. Greatly disappointed, Father Afitmios finally requested permission from his superiors to travel to North America, where he hoped to serve in a less restrained atmosphere."[5]ibid.
Permission was granted, probably gladly … Landing in New York on 13 December 1905, Father Aftimios presented his credentials and letter of introduction to his new superior, Bishop Raphael (Hawaweeny, +1915, glorified by the OCA as Saint Raphael of Brooklyn in 2000) of Brooklyn, who had been educated at the Greek Halki Seminary of the Ecumenical Patriarchate, and the Russian Kiev Theological Academy. Assigned to North America to care for Arab Orthodox parishioners of the Russian Diocese, he became the first Orthodox Bishop consecrated in North America. The consecration took place on the Third Sunday of Lent, the Sunday of the Holy Cross, 28 February/13 March, 1904, concelebrated by Bishop Tikhon (Bellavin, +1925, later Patriarch and Holy New Confessor of Russia) of the Aleutians and North America, and Bishop Innokenty (Pustynsky, +1937) of Alaska, in the Saint Nicholas Cathedral in New York. Bishop Innokenty was 'first vicar' of the North American Diocese, and Bishop Raphael, 'second vicar.' Bishop Raphael reposed on 14/27 February, 1915.[6]https://oca.org/saints/lives/2008/02/27/100610-repose-of-st-raphael-the-bishop-of-brooklyn
There was much strife among the Orthodox Arabs in North America; different factions desired that the Arab parishes go under the jurisdiction of the Patriarchate of Antioch, and a 'travelling Metropolitan' (not assigned by the Patriarchate of Antioch to assume jurisdiction in North America) from the Patriarchate of Antioch also had designs on gaining jurisdiction over Arab parishes. Due to the delay of two years by Archbishop Evdokim (Meshchersky, later Renovationist 'Metropolitan of Odessa, +1935) in appointing a successor for Bishop Raphael, court cases, and the setting up of an Antiochian jurisdiction in North America resulted. Finally, after reporting to the Holy Synod in Russia that "thirty-four of the forty-one [Arab] priests in the Diocese favored the election of Father Aftimos" to succeed Bishop Raphael, the Synod consented, and Archimandrite Aftimios was consecrated in the Saint Nicholas Cathedral in New York on 13 May 1917. The consecration was concelebrated by Archbishop Evdokim, Bishop Alexander (Nemolovsky), and Bishop Stephen (Dzubay, +1933). Supporters of Metropolitan Germanos (the 'travelling Metropolitan') had sent over 50 telegrams to leading clergy of the Arab parishes in an attempt to prevent the consecration.[7]op. cit. 4
The 'Russy-Antacky' (the disputants favoring that Arab parishes remain in the Russian Diocese of North America vs. the faction that sought to be under the Patriarchate of Antioch) dispute continued, taking up much of the time and energies of Bishop Aftimios. Nevertheless, he still cared for and served his flock, undertaking social and educational programs for their aid and benefit. As time progressed, and the 'Russy-Antacky' dispute was more often the subject of lawsuits, this drained resources in the fight to maintain unity under the Russian Diocese, which had also been involved in its own disputes over jursidiction, resulting in court cases.[8]op. cit. 4
Archbishop Aftimios served the North American Diocese loyally, attempting to maintain the unity of his Arab flock in America under that Diocese. His struggles were difficult, and he remained faithful. Despite his efforts, eventually, the Arab Orthodox in North America left the Russian Diocese, and established their own diocese under the jurisdiction of the Patriachate of Antioch. Archbishop Aftimios is not remembered today primarily for his service to the Russian Diocese, but for his step out of the bounds of Orthodoxy, with the creation of "The Holy Eastern Orthodox Catholic and Apostolic Church in North America." This was to be an "Autocephalous" Church, yet, the Russian Diocese in North America would not submit to its jurisdiction; it would remain intact, separate, under its own jurisdiction.  The historical circumstances of this "first Autocephalous Orthodox Church" in America are, perhaps purposefully, vague. Metropolitan Platon (Rozhdestvesnky) has been named as its creator, as has Archbishop Aftimios (Ofiesh).
The Fourth All American Council of the North American Diocese was held in Detroit, Michigan, 02-04 April 1924. "The Sobor 'proclaimed the Russian Orthodox Church in America to be temporarily autonomous unitl the convocation of a new All Russian Council' … Although the Sobor declared itself merely 'temporarily autonomous,' it was in fact making a bid for autocephaly. For the desire of the Sobor was to be fully independent of both Moscow and of the Church Abroad."[9]Holy Transfiguration Monastery, A History of the Russian Church Abroad, 1917-1971, p. 75 And, "the Ecumenical Patriarchate," "the heretical 'Living Church' and its representative Ivan Kedrovsky," as well as the "schismatic attempts of Bishops Stephen (Dzubay) and Adam (Filippovsky)."[10](Afonsky), BIshop Gregory, A History of the Orthodox Church in America, 1917-1934, Saint Herman's Theological Seminary Press, Kodiak, Alaska 1994 p. 115 "At the Council [Detroit Council of 1924] it was decided that the Orthodox communities of North America should in the future be self-governing. A constitution for an 'American Orthodox Church' would be worked out, which would create a quasi-autocephalous status." 11  "As Basil Bensen writes in the St. Vladimir's Seminary Quarterly, 'Metropolitan Platon, after the proclamation of the autonomy of the Russian Orthodox Church (in America) of 1924, made a special agreement with the Syrian Archbishop Aftimios to proclaim and independently establish The Holy Eastern Orthodox Catholic and Apostolic Church in North America.'"[11]Seide, Father Georg, History of the Russian Orthodox Church Outside Russia from its Beginning to the Present (1983), manuscript copy, Part IV, p. 48
Also in 1924, Metropolitan Platon took part in the Hierarchical Council of ROCOR in Sremski Karlovtsy, Serbia, was elected a member of the Synod, and displayed complete submission to the Council. In 1926, he again arrived from America at the Council in Sremski Karlovtsy and presented, in a detailed report, recorded in the minutes of the Bishops' Council, No. 4, of June 14/27, 1926, as follows: … "on the matter of the congress of laymen and priests in Detroit, he said this was permitted by him as a valve for the escape of autocephalic gases …" [12]Rodzianko, M., The Truth About the Russian Orthodox Church Abroad, translated from the Russian by Michael P. HIlko, Jordanville, 1975
The final 'creation' of the "The Holy Eastern Orthodox Catholic and Apostolic Church in North America" came with the "'Act of February 2, 1927,' enacted by the convention of the canonical hierarchy of the Russian Patriarchal Synod [sic] at St. Tikhon's Monastery at South Canaan, Pennsylvania, presided over by Metropolitan Platon Rozhdestvenskii, decreed that the duty and full responsibility of providing the Orthodox teachings and church sacraments to unattached American-born of any ethnic group, be placed on the primary representative of the Russian Orthodox Mission in North America, Bishop Aftimios, who served as the head of the Syrian Orthodox branch of this mission. For this purpose, Aftimios was empowered and commissioned to constitute, organize, establish, head, lead, and administer, a distinct independent branch of the Orthodox Church to be canonically established and publicly known as 'The Holy Eastern Orthodox Catholic and Apostolic Church in North America.' Articles of 'The Act' specified that auxiliary bishops were to be consecrated to aid the bishop of Brooklyn in carrying out the provisions thereof, and designated Bishops Theophilos [Pashkovsky, later Metropolitan, +1950] of Chicago, and Bishop Arsanious [sic] [Chagovtsev, +1945] of Winnipeg, to serve as co-consecrators with Aftimios, as occasion required … Archbishop Aftimios was to retain his office as archbishop of Brooklyn and head of the Russian Jurisdiction's Syrian Greek Orthodox Catholic Mission in North America for as long as any parish or clergy remained in the Brooklyn Diocese under the Russian Jurisdiction. The independent church was chartered by the Commonwealth of Massachusetts as a religious corporation under Archbishop Aftimios as Archbishop President of the Holy Synod, whereby the new church acquired legal, as well as ecclesiastical, reality and existence."[13]op. cit. 2, pp. 130-131 From the foregoing, it can be seen that the "creation" of this "new church" rested squarely on the shoulders of Metropolitan Platon. How a 'temporarily autonomous' diocese can create a 'new autocephalous church,' a 'distinct independent branch of the Orthodox Church,' within its own borders, and 'commission' one of its own bishops to 'constitute, organize, establish, head, lead, and administer' that 'new church,' as 'President Archbishop of the Holy Synod' of the 'new church,' yet also remain serving as a bishop of the 'temporarily autonomous diocese,' which continues as a 'temporarily autonomous diocese' itself, within the boundaries of the 'distinct independent branch' is somewhat of a mystery, or perhaps, simply a dreamworld scenario. The most important words of this description of the 'new church' seem to be, 'the new church acquired legal … existence.' Lawsuit insurance, beneficial to both 'parties.'
In May 1927, Archbishop Aftimios wrote an unambiguous denunciation of the Protestant Episcopal Church in America, concerning its involvement with the consecration of Bishop Adam (Philippovsky, +1956) by Bishop Gorazd [Pavilk, 1879-1942, New Martyr of Prague, executed by the Nazis] of the Czechoslovak Orthodox Church, along with Bishop Stephen (Dzubay, +1933) of the North American Diocese.  "… the deflection from Orthodox Catholic jurisdiction and sacramental communion on the part of the Czecho-Slovaks was not the only destruction that the Protestant Episcopal Church accomplished through Bishop Gorazd Pavlik. A small disorderly party of Russians was contesting the regular and accepted authority of the Russian Church Authority in America. While in this country under the shepherding of Messrs. Emhardt, Burgess, and Keating Smith, Bishop Gorazd joined with the schismatic and un-canonical faction and took part in an un-canonical consecration of Adam Philippovsky as a Bishop for the disgruntled faction of Carpatho-Russian and other minority groups … Adam Philippovsky himself has caused no end of trouble and dissension in the Orthodox Church since he was consecrated by this ally of the Protestant Episcopalians."[14]Aftimios, Archbishop of Brooklyn "Present and Future of Orthodoxy in America in Relation to Other Bodies and to Orthodoxy Abroad," in The Orthodox Catholic Review, Vol. I, No. IV-V, April-May … Continue reading Appearing in the first issue of 'The Orthodox Catholic Review,' this article, obviously, did nothing to endear Archbishop Aftimios to the Episcopalians. Whether Archbishop Aftimios knew, or cared, he made himself formidable enemies.
" … within about a year after the creation of the AOCC [the 'new church' headed by Aftimios] by Russian Metropolia authorities in February of 1927, the Metropolia's head, Metropolitan Platon Rozhdestvensky, withdrew his support from the new jurisdiction. Indeed, even within just a few months, Platon wrote to Aftimios telling the latter to cease his 'steppings out' against the Episcopalians—some of Aftimios's priests were publishing excoriating comments against the Episcopalians, who had been providing the Russian Metropolia with financial support (hoping, most likely, eventual recognition of the validity of their holy orders). Platon wrote: 'I must attest before Your Eminence that without their (American Episcopalian) entirely disinterested assistance our Church in America could not exist.' … Not only was Platon apparently working against Aftimios's new jurisdiction, but it seemed that he may also have been interfering in the parishes under Aftimios which still remained under the Syrian Mission … No doubt the need for money and other kinds of material support from the Episcopalians was not the only reason for Platon's reversal on his support for Aftimios, but whatever the case, it's clear that Platon's loyalty to his heterodox supporters and to his own agendas was greater than his investment in the new jurisdiction he had signed into being. Aftimios, as may be imagined, reacted quite badly."[15]http://orthodoxhistory.org/2009/11/04/the-reversal-of-platon-rozhdestvensky/ In a letter dated 29 October 1929, Archbishop Aftimios expressed his dismay over Metropolitan Platon's abandonment of the 'new church.' "Even in the face of the fact that Your Eminence forbid Bishop Elect Leonid Turkevich from accepting consecration after Your Eminence had yourself proclaimed his election and given orders for his consecration, I have wished to believe it impossible that Your Eminence should secretly attempt to destroy the work of your own hands in the creation of an American Orthodox Catholic Church founded by your order."[16]http://orthodoxhistory.org/wp-content/uploads/2009/11/Aftimios-Platon-1928-1029.pdf
On 19 December 1927, Archbishop Aftiimios addressed what was essentially a form letter to the heads of all the Autocephalous Orthodox Churches, to be sent along with a copy of the new church's constitution: "Your Eminence, Most Reverend and Gracious Prelate, and Beloved Brother in Christ, On behalf of our Holy Faith and Church in America I herewith transmit for your distinguished consideration the Greetings and Appeal of the newly-established Holy Eastern Orthodox Catholic ad Apostolic Church in North America, together with the Constitution officially promulgated for the organization and government of American Orthodoxy and the Report and Resolutions of the Convention of the Syrian Greek Orthodox Mission in North America recommending and endorsing the same. Trusting that our North American Holy Synod will shortly receive notice of the favorable consideration and action of Your Eminence and your fellow Hierarchs in that portion of the Holy Orthodox Church which Our Lord Christ has committed to your responsibility, I am, with all prayers and most sincere greetings in the name of our New Born Saviour Christ, Your Eminence's Brother in Holy Church, [signed] 'Aftimios,' Archbishop of Brooklyn, Archbishop President of the North American Holy Synod. Addressed to The Most Reverend Head or Governing Synod of Each Autonomous National Orthodox Catholic Church."[17]op. cit. 2, p. 240
In 1917, the Greek Prime Minister Venizelos forced King Constantine into exile. Venizelos then "designated his nephew," Meletios Metaxakis as Archbishop of Athens, head of the Greek Orthodox Church. "On the basis of a 1908 decree of the Ecumenical Patriarch that the independent 'trustee' Greek parishes in America should receive episcopal oversight from the Church of Greece, Metaxakis journeyed to America in the summer of 1918 to survey the situation. Three months later he returned to Greece and appointed Bishop Alexander of Rodostolou as his resident American legate. … In the Greek elections of 1920, however, Venizelos was defeated. The king returned to power, and Metaxakis was deposed as Archbishop of Athens. Like so many other political refugees, Metaxakis fled to the United States. Still recognized as the head of the Church of Greece by his American legate, Bishop Alexander, Metaxakis presided over the organization of some Greek parishes in North America into a formal 'Greek Archdiocese' on September 15, 1921. In yet another surprising reversal of fortune, the exiled Metaxakis was elected Ecumenical Patriarch only two months later (November 15, 1921). Meletios, however, was not about to give up his American creation. In one of his first acts as Patriarch, Metaxakis repealed the 1908 Tomos, in effect transferring jurisdiction of the new Greek Archdiocese from 'himself' (as Archbishop of Athens) to 'himself' (as the Ecumenical Patriarch)."[18]https://oca.org/history-archives/orthodox-christians-na/chapter-5
Obviously, none of the Orthodox Churches would recognize Aftimios' 'new church.' "To anyone knowledgable in Canon Law … Not only did the Russian Bishops under Metropolitan Platon – whose own relationship to the Mother Church was abnormal – not have any authority to set up an autocephalous Church but, obviously [according to the Constitution of the 'new church'] … Metropolitan Platon and his Bishops should have submitted to the new Head of the North American Church, Archbishop Aftimios … One can safely say that Metropolitan Platon and his Bishops  (with the exception of Archbishop Aftimios) never had any intention of granting such broad and unlimited authority and jurisdiction, and indeed this may well have been a factor which turned Metropolitan Platon against the new Church soon after its very inception."[19]Surrency, Archimandrite Serafim, The Quest for Orthodox Church Unity in America, Saints Boris and Gleb Press, 1973, p. 37
The next few years, Archbishop Aftimios wrote apologies and defenses for his 'new church,' visited various parishes, and attempted to settle disputes, which was, sometimes, successful, and other times resulted in 'more litigation.' In 1931 he wrote on the various 'factions'' he saw in American Orthodoxy, describing "The Russian Archdiocese and its Syrian Mission," with himself as "acting head in absence of the Russian Archbishop, also head of the Syrian Mission as Archbishop of Brooklyn and appointed to organize the American Orthodox Church; Metropolitan Platon, formerly of Odessa, suspended but acting without any valid credentials or authority .. " This work, "The Orthodox Situation in America," was "published and distributed by Archbishop Aftimios." Apparently, however, Metropolitan Platon's 'credentials' and 'authority' were acceptable when Aftimos was 'appointed' to form the 'new church.'[20]op. cit. 2, pp. 138 & 151
In 1932, while visiting his parish of Saint Mary's in Wilkes-Barre, Pennsylvania, Archbishop Aftimios met a young parishioner, Mariam Namey.  He gave Mariam "intensive training in the New Testament" to ready her as a Sunday School instructor. In 1933, while "serving the community in Niagara Falls," Aftimios was called back to Brooklyn, "to take punitive action" against a hieromonk, "who had been caught corrupting and molesting the parish youth."[21]op. cit., 2, pp. 180-181
"After a night of Gethsemanic agony, he knew what he must do … Conceivably, the heinous act of the hieromonk might well have been the impeller of exposition of the evils of celibacy and precipitator of an Orthodox Church convocation on the issue. As Abraham was called to sacrifice his son Isaac, so now was Aftimios called to sacrifice himself for the cause of restoring within the church the proper concept of the true sanctity of the complete man of God's creation, male and female in His image and likeness (Genesis 1:27) and to bring it into conformity with the Old, and the New Testament imperatives (Leviticus 21, I Timothy 3, and Titus 1) on the marriage of clergy of all ranks."[22]op. cit., 2, pp. 181
Aftimios replied to the call to Brooklyn to decide what punishment the hieromonk merited by saying: "They are not content except that they wallow in vice. I shall not come to Brooklyn this time to wash the hands of the clergy, however, soon you will hear history making news that will shake the nerve and sinew of clergy and laity alike." The "history making news" was that after Mariam Namey arrived in Niagara Falls due to a telephone summons from Aftimios, "they were quietly married the same day [29 April 1933] in Judge Gold's chambers."[23]op. cit., 2, pp. 182 The night of 'Gethsemanic agony' and the ensuing realization of what 'he must do' resulted in the marriage of Archbishop Aftimios, which would save the Church from 'the evils of celibacy.'
After the marriage, Aftimios wrote a tome on the 'evils of celibacy (9 July, 1933), as well as a declaration, as "ruling hierarch of the Syrian Orthodox Church in the United States" that he "officially and solemnly repudiated, rejected and denied any asserted canonical authority over him or over his priests of the pretended, illegitimate and self-constituted so-called Locum Tenens of Sergius of Moscow, himself the asserted successor of the equally pretended, illegitimate and self-constituted so called Locum Tenens Peter, both of whom, being defiant and uncanonical usurpers of asserted Ecclesiastical Authority in the Russian Orthodox Church have been rejected by legitimate Chief Hierarchs by the Church of Constantinople," and, thus, "he [Sergius] and all his fellow so-called Hierarchs" are "evidently false Hierarchs destitute of all canonical jurisdiction over any fellow bishop." (18 August 1933)[24]op. cit., 2, pp.194-195 As the 'Church of Constantinople,' nor any other Orthodox Church, recognized Aftimios, or his 'Church'-doubly so after his marriage-this 'declaration' seemingly puts Aftimios in the same boat as both of the 'equally pretended, illegitimate, defiant and uncanonical usurpers' he denounced in his declaration. In short, the fruition of the young Aftimios, the rebel, the reformer, threatened more than once with excommunication, coming into flower in the 'less restrained atmosphere' of North America.
Sources widely vary on the post nuptial 'activities' of Aftimios . "According to the records of Saint Mary's parish [the parish in Wilkes-Barre, near where Aftimios lived], he 'was retired,' and lived in nearby Kingston until his death in 1966' … According to the book 'Orthodox Christians in North America (1794-1994)', however, Aftimios 'resigned his episcopacy and married' … The biography by Ofiesh's widow Mariam claims that Aftimios "fully intended to function as a married bishop, having that intent even before he met Mariam."[25]https://en.m.wikipedia.org/Aftimios_Ofiesh Wikipedia states that, "He [Aftimios] held the title of Bishop of Brooklyn from 1917 to April 1933, when he married, thus deposing himself from the episcopacy."
Whatever Aftimios' intentions, in the biography written by Aftimios' widow, the only mentions of Aftimios continuing to serve numbered two: when the mother of Ray and Jay Bishara died, "they asked Aftimios to perform the burial service which was conducted in the Episcopalian Church [apparently, his 'steppings out' against the Episcopalians had ceased, or were forgotten… ] to avoid conflict in the Orthodox Church," and that "Aftimios proceeded to act independently, performing 'irregular' ordinations and consecrations.'"  Aftimios and his family endured a materially poor existence, relying on charity. Aftimios often met and consulted with 'admirers,' the instances being less frequent as time passed.[26]op. cit., 2, p. 202, 205, 196-223
Previous to the marriage, more 'bishops' were consecrated by Aftimios for the 'new church.' On 28 May 1928, Archimandrite Sophronios (Bishara, +1940, ordained a priest in 1917 by Aftimios) was consecrated as Bishop of Los Angeles, by Aftimios concelebrating with Metropolitan Elias of Tyre and Sidon of the Patriarchate of Antioch, and Bishop Emmanuel (Abo-Hatab).  In September of 1932, Joseph Žuk (+1934; former Papal Legate to Ukraine, assigned to the US by Pope Benedict XIV, excommunicated by the Roman Catholics in 1928) was consecrated by Aftimios and Bishop Sophronios, "to serve the Ukrainian diocese and to help develop a pan-Orthodox Christianity for North America." On 27 September 1932, William Albert Nichols (+1947, former Episcopalian, former bishop of two vagante groups, after 1930 became interested in Orthodoxy) was consecrated by Aftimios, Bishop Sophronios (Bishara) and Bishop Joseph (Žuk), "with the ecclesiastical name Ignatius, appointed Archbishop of Washington, D.C. … solely dedicated to the Western Rite."[27]http://orthodox-catholic.tripod.com/OrthodoxHistory_org_Ignatius_Nichols.htm After the marriage of Aftimios, Bishop Ignatius (Nichols) and Bishop Joseph (Žuk) "met as a council, and declared Aftimios retired. Yet, Bishop Ignatius soon followed his mentor, and married in June, 1933, after which Bishop Sophronios [Bishara] declared Bishop Ignatius as deposed."[28]http://orthodoxwiki.org/Ignatius_(Nichols)_of_Washington
The morass of vagante jurisidictions stemming from Aftimios 'new church' resulted from several 'consecrations' performed by Ignatius Nichols. There are, perhaps, countless entities that claim 'apostolic succession' from 'the Aftimios lineage.' Archbishop James (Toombs, +1970) of ROCOR's American Mission, before coming to ROCOR, claimed such 'lineage,' until his joining with, and consecration by ROCOR. Some of the entities lionize Aftimios as the hero of 'non-ethnic' Orthodoxy, and 'liberator' from the evils of celibacy, while others seem not to know much of the history behind Aftimios, his name on their website simply 'proving legitimacy.' The usual scenario with many of these groups is found in alliances, consecrations, arguments, new 'churches,' and then the cycle reruns. A common practice with these groups is repeated consecrations as 'Bishops,' to claim several 'episcopal lines,' some claiming Orthodox, Monophysite, and Nestorian 'lines,' along with Episcopalian and Roman Catholic 'lines,' to 'prove' their 'apostolic succession' goes back all the way to all the Apostles … Much has been made of the assumption that Aftimios is 'not to blame' for this enumeration of these groups fraudulently calling themselves "Orthodox," which span the spectrum from 'well-meaning' to bogus groups of people that like to play dress-up and collect money.
Nichols, after leaving the Episcopalians, was 'consecrated a Bishop' by Arthur Edward Leighton, 'Bishop' of the 'American Catholic Church.' Leighton was a 'Spiritualist,' and had also consecrated Lauron William de Lawrence, "an American writer and publisher on occult and spiritual topics," author of "The Great Book of Magical Art."[29]https://openlibrary.org/authors/OL2316634A/L._W._de_Laurence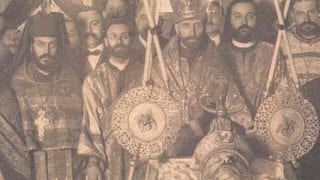 Finding that his 'orders were invalid' in 1930, Nichols then peregrinated to the Apostolic Christian Church, where he was consecrated as a 'bishop.'  "A schism from the American Catholic Church formed, entitled the Apostolic Christian Church, which in time attracted a number of the more esoteric clergy [many of the vagante groups 'attract the more esotriec clergy']… the head of that body, Archbishop Samuel Gregory Lines, performed a consecration assisted by bishops William Albert Nichols, then of the Apostolic Christian Church, and George S.A. Brooks of the Holy African Church, on 20 November 1933."[30]http://san-luigi.org/ecclesia/the-order-of-antioch/history-of-the-order-of-antioch
Apparently, Nichols returned to old haunts after being 'deposed' from the 'new church' of Aftimios, going on to spawn yet more 'new churches' by 'consecrations' he himself performed. Again, an 'episcopal consecration' not 'well thought out,' resulting in much damage done. Agitators, rebels, reformers, innovators, discovering the 'real meaning' of the Gospel, seeking to overthrow established Church order, and less 'restriction' being the common thread …
Aftimios Ofiesh died on 24 July 1966, aged 85. His handwritten will stated:
"Glory to God in the highest, and on earth peace, good will toward men. Luke 2:14
To Whom It May Concern:
Please take notice and give heed to honestly and faithfully follow my instruction in executing this, last will of my heart's desire concerning my passing on and the burial of my body.
First of all, don't let sorrow touch your heart but instead be of good cheer and rejoice with me for I have been set free from the fetter of the flesh, and completely with my Master, Elder Brother, Jesus Christ, and through Him our loving Father-God.
No clergy of any denomination is to have anything to do with my body, no religious service or any kind of ceremony to be allowed.
No flowers, no gathering, no exposition of body for services.
Don't notify relatives and friends.
If it is possible burial should take place the same day, and at most the second day.
Box (coffin) should be the cheapest possibe, and use the extra money in good cause where it is relly needed and finally I say again, be of good cheer and rejoice with me in the Lord, Christ in you the hope of glory.
January 7, 1963
Aftimios Ofiesh"
Aftimios Ofiesh was buried on 25 July, 1966 in the Maple Hill Cemetery in Hanover Township, Pennsylvania.[31]op. cit., 2, pp. 226-227, 229
References

↵

1

http://orthodoxhistory.org/2012/07/25/the-death-of-aftimios-ofiesh/

↵

2

Ofiesh, Marian Namey, Archbishop Aftimios Ofiesh, 1880-1966, A Biography Revealing HIs Contribution to Orthodoxy and Christendom, 1997, pp 8-10

↵

3

ibid., p. 12

↵

4

Morris, Archpriest John Warren, The Life of the Thrice-Blessed Archbishop Aftimios Ofiesh, online @

http://almoutran.com//2011/03/326

↵

5

ibid.

↵

6

https://oca.org/saints/lives/2008/02/27/100610-repose-of-st-raphael-the-bishop-of-brooklyn

↵

7

op. cit. 4

↵

8

op. cit. 4

↵

9

Holy Transfiguration Monastery, A History of the Russian Church Abroad, 1917-1971, p. 75

↵

10

(Afonsky), BIshop Gregory, A History of the Orthodox Church in America, 1917-1934, Saint Herman's Theological Seminary Press, Kodiak, Alaska 1994 p. 115

↵

11

Seide, Father Georg, History of the Russian Orthodox Church Outside Russia from its Beginning to the Present (1983), manuscript copy, Part IV, p. 48

↵

12

Rodzianko, M., The Truth About the Russian Orthodox Church Abroad, translated from the Russian by Michael P. HIlko, Jordanville, 1975

↵

13

op. cit. 2, pp. 130-131

↵

14

Aftimios, Archbishop of Brooklyn "Present and Future of Orthodoxy in America in Relation to Other Bodies and to Orthodoxy Abroad," in The Orthodox Catholic Review, Vol. I, No. IV-V, April-May 1927 online @:

http://westernorthodoxy.org/pdf/writings1pdf

↵

15

http://orthodoxhistory.org/2009/11/04/the-reversal-of-platon-rozhdestvensky/

↵

16

http://orthodoxhistory.org/wp-content/uploads/2009/11/Aftimios-Platon-1928-1029.pdf

↵

17

op. cit. 2, p. 240

↵

18

https://oca.org/history-archives/orthodox-christians-na/chapter-5

↵

19

Surrency, Archimandrite Serafim, The Quest for Orthodox Church Unity in America, Saints Boris and Gleb Press, 1973, p. 37

↵

20

op. cit. 2, pp. 138 & 151

↵

21

op. cit., 2, pp. 180-181

↵

22

op. cit., 2, pp. 181

↵

23

op. cit., 2, pp. 182

↵

24

op. cit., 2, pp.194-195

↵

25

https://en.m.wikipedia.org/Aftimios_Ofiesh

↵

26

op. cit., 2, p. 202, 205, 196-223

↵

27

http://orthodox-catholic.tripod.com/OrthodoxHistory_org_Ignatius_Nichols.htm

↵

28

http://orthodoxwiki.org/Ignatius_(Nichols)_of_Washington

↵

29

https://openlibrary.org/authors/OL2316634A/L._W._de_Laurence

↵

30

http://san-luigi.org/ecclesia/the-order-of-antioch/history-of-the-order-of-antioch

↵

31

op. cit., 2, pp. 226-227, 229