Fr Alvian was born in Harbin, Manchuria on 11 May 1929 and was named after the holy hieromartyr Alvian, Bishop of Anaea (†304, Feastday 4/17 May). Fr Alvian's paternal great-grandfather, John, was a priest and his grand father was also a priest holding the position of Dean (ключарь) in the Krasnoyarsk Cathedral. Fr Alvian's father, Nicholas, took part in the Kolchak's White Army and died some five months before his son was born.
Fr Alvian's mother, Sophia, was born in 1907, already in Harbin. Both she and her son were baptised by Fr Sergei Braduchan, the Amur military district chaplain and religious education instructor both at the M. A. Aksakoskaia High School and the Technical College. Fr Alvian's maternal grandparents were descended from russified Swedes and moved to Harbin from Revel in 1898. His mother's stepfather, a Scotsman, was a based in Manchuria for his job as a buyer for the butcher trade. After his death, the family inherited his house comprising a number of apartments in Harbin's Samannyi (Military) Town. There they attended the Church of the Icon of the Mother of God "Joy of All Who Sorrow" located at the Mercy House and cared for by Archbishop Nestor of Kamchatka (the icon itself is in St. Sergius church in Synod in NY).
They also worshipped at the town's Church of the Holy Transfiguration, which was served by Fr. Alexander Kochergin. Alvian began his education at Saint Nicholas boarding school in Harbin which had been set up by Russian Catholics. Fr Alvian had warm memories of his time in that educational establishment which was located at the intersection of Church Street (Tserkovnaia Ulitsa) and Old Harbin Freeway (Starokharbinskoe shose). He used to make a particular mention of the fact that the majority of the students were Orthodox and the school exerted no pressure whatsoever to turn them Uniate.
In 1937, Fr Alvian's grandmother moved to San Francisco, followed, in 1939 by Fr Alvian himself and his mother. In 1949, Alvian graduated from the Catholic school of St Ignatius. His mother was a superb seamstress and her skill, including sewing church vestments, enabled her to provide for her family. Alvian started to help out as a server at the Moscow Patriarchate Cathedral of St Nicholas in San Francisco and his time there coincided with the visitation of Metropolitan Gregory (Chukov). In 1951, Alvian graduated from the Merchant Marine Academy.
This was the time of the Korean War and Alvian was enlisted into the US Navy and deployed on the US Destroyer John A Bole. Fr Alvian recalled traveling to Hong Kong and making his acquaintance with Fr Elias Wen there. Later, he met Fr Elias again at Archbishop John's Joy of All Who Sorrow Cathedral in San Francisco. After being demobbed, Alvian began worshipping at the Holy Trinity Cathedral on Green Street. According to him, the Russian community in the city was relaxed about "jurisdictional matters"; people attended whichever church suited them best. "I go to the Church on Fulton Street" meant worshipping at the ROCOR Cathedral while "Green Street" stood for the Cathedral of the Russian Metropolia.
In 1954, Alvian entered St Vladimir's Theological Seminary in New York. The young Lieutenant Commander became Fr Georges Florovsky's personal secretary and witnessed the events surrounding the latter's removal from the position as dean. In 1957 Fr Alvian graduated from the seminary with a Master of Divinity degree and a year later married Elena (Helen) Mikhailovna Kefeli in the Tolstoy Foundation Center Church of St. Sergius at Valley Cottage. The same year, on 13 September 1958, Alvian was ordained as a priest by Metropolitan Leontii (Turkevich) and was assigned to the Cathedral of the Holy Virgin Protection on 2nd Street in East Village, New York. He used to joke that Leskov's novel "The Cathedral Clergy" could easily have been inspired by the life in the New York Cathedral. Fr Alvian recalled with particular warmth one such clergyman, Archpriest  Nicholas Perekhvalsky from Riga who was based there.
Fr Alvian and his matushka also revered deeply the First Hierarch, Metropolitan Leontii whom they regarded as a saint. They lovingly remembered his humility (he darned his own socks) and the way he offered practical help th young family. Matushka used to bring her young son with her in her Saab, as she drove the Metropolitan to the Synodal chancellery at Syossett. She would take the child for a stroll while she waited for the Metropolitan to complete his work and to take him back. Fr Alvian and his matushka raised three children, Nicholas, Anna and Maria.
As well as assuming pastoral responsibility for the English-speaking Cathedral parishioners, Fr Alvian also served as a military chaplain at the US Naval Reserve. It is noteworthy that his military superior in that role was a rabbi.
In 1961 the family moved to Meriden, Connecticut, where Fr Alvian took care of the Parish of St Peter and Paul. Subsequently, he served at the Church of the Resurrection in Wayne, New Jersey, St Basil's Church in Maplewood, New York and the Antiochian Parish of St George in Albany, the New York state capital. In order to support his family, Fr Alvian was employed in the state's administration staff. In 1991, Fr Alvian retired from his post as Director of Information Services for the New York State and Local Retirement Systems. His last clerical post was at St Nicholas Orthodox Church in Cohoes, New York (all the above-mentioned churches, with the exception of St George's belonged to the North American Metropolia jurisdiction, which subsequently became the OCA). After his retirement, Fr Alvian became attached to the Church of Holy Wisdom in New York's New Skete Monastery. It was there that Fr Alvian's mother was buried and it was there too where he and his matushka were also laid to rest.
In 1995, St Vladimir's Theological Seminary conferred on Fr Alvian a Master of Theology degree for his thesis "Matrimonial Legislation in Imperial Russia."  He was a specialist in the subject of matrimonial canon law and his article "The Evolution of Matrimony" (St Vladimir's Quarterly 8 [1964]: 38-48) was influential in furthering theological debate of the sacrament of marriage. Fr Alvian was generous in sharing his Christian heritage; his many translations from Russian offered his English-language readers a glimpse into the world of philosophy and theology, which would not have been accessible to them.
In 2004 and 2005, Fr Alvian delivered a series of lectures on the subject of matrimonial canon law at the Holy Trinity Theological Seminary in Jordanville. He rejoiced at the restoration of communion in the Russian Church, which took place on his name-day (17th May new style) in 2007 and longed for the opportunity to serve at the Holy Trinity Monastery, which belonged to the Russian Church Abroad – church of his baptism.
Fr Alvian was gradually preparing for his departure into the world to come. Seeking to lessen the burden on his family after his death, he made all the arrangements and ordered a wooden coffin. He passed on his books and course material on canon law to an instructor at the Holy Trinity Orthodox Seminary in Jordanville; these were gratefully received and are being used by the teacher to this day. A portion of his library was also bequeathed to the seminary.
Matushka Elena (Helen) Mikhailovna was born on 3 November 1933 in Prague. Her family was of a Karaite descent. After the end of the WW2, Helen and her family passed through a number of displaced persons' camps culminating with her arrival in the USA in November 1949 through the help of the Tolstoy Foundation. Matushka Helen was educated at the Columbia University (Russian Regional Studies) and later at the SUNY Albany's School of Library Science (Master of Library Science). Matushka Helen loved to knit afghans blankets which she generously sent to a wide variety of recipients – be it family members, a newborn baby in Jordanville or disadvantaged children from troubled families.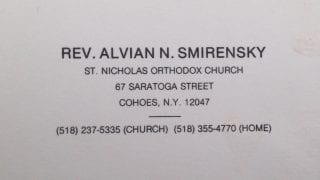 In 2008, Fr Alvian and his wife moved to the Beverwyck Independent Senior Living Community in Singerlands. During a visit on 14 November, 2017, it was touching to observe this couple operating as a single person; Matushka read to Fr Alvian who was by then practically blind, while he in turn walked to collect the mail, an activity which was beyond her strength.
On the evening of Wednesday 6 December, Matushka Helen suffered renal failure and was admitted into Albany Medical Center. She underwent surgery on Saturday but it was clear that her condition was irreversibly terminal. At approximately 3 am on Sunday 10 December, Fr Alvian anointed with oil and read a prayer to his wife of 59 years. On his way home, he suffered an extensive brain haemorrhage and was rushed unconscious to the same medical facility which cared for his wife. They departed this life, holding hands in adjoining beds ‑ first Matushka Helen and then Fr Alvian.