The infrequent instances of dialogue between the Russian Orthodox Church Outside of Russia and the other Russian-tradition Orthodox jurisdictions are generally characterized by polemics.  In the exchange below, however, a common ground between the representatives of three very diverse theological traditions can be observed.  The correspondence is also of interest because of the light it casts both on the writers' psychological make-up and also on the Orthodox participation in the ecumenical movement.  The correspondence below is cataloged in vol.5/48 of the Archive of the Synod of Bishops in New York and is reproduced [in translation] preserving the authors' unique style and orthography.  I would like to express my thanks to  His Eminence, Metropolitan Laurus  for allowing me to publish this material which first appeared  in Vol . 189 of  Vestnik Russkogo Khristianskogo Dvizheniia [=Bulletin of the Russian Christian Movement], 2005. " Material below is reproduced by kind permission of the editor of Vestnik Russkogo Khristianskogo Dvizheniia.

1.
Letter[1] from Fr. G. Grabbe[2] to Fr. G. Florovsky
3/16 January 1962
No.5/48/6
My dear Father Georges,
I am enclosing with this letter my book[3] which in itself is the response to the book[4] of S.V. Troitsky.[5] I am not sure whether you have read it; it is so obviously the result of Soviet compulsion or inducement that it perhaps does not deserve a detailed answer.  Nevertheless, I decided to use its publication as an excuse to write a book of my own.
I would be very grateful if you could briefly give me your impressions of the Assembly in N[ew] Delhi[6].  Based on what I already know, my feeling is that the Orthodox have departed from the principles which you expressed so eloquently in Evanston[7]. In particular, how authoritative would you regard Nissiotis' address?[8]
Please convey my greetings to Matushka.
Asking for your prayers, I remain
Yours in Christ,
[Archpriest George Grabbe]
2.
Letter[9]  from Fr G. Florovsky to Fr G. Grabbe
Febr. 11, 1962
Dear Fr George,
Please forgive me for delaying with my reply.  Many thanks for the book –  I am so short of time that I still haven't read  it.  Your letter arrived during the busiest period in the academic year, the time when I am snowed under examination scripts while also trying to prepare new courses.  At least, I am done with the exams for now.  By the way, I haven't been teaching at the Greek Seminary for some time, although I retain a casual association with them.  My main occupation is my Harvard professorship, which is officially in the History of the Eastern Church, but in reality, the general History of the Church.  I lecture in Patristics, the History of Monasticism, Historical Liturgics, etc. Also, as of this year, I am teaching in the Slavic Department. I have masses of students and work.  The best way to reach me is at the University address.
I haven't read Trotsky's book, although he sent me a copy. I am totally convinced that his reasons for writing that book was not so much "Soviet compulsion or inducement" as his relentless need to vent his habitual anger.  He always liked to ingratiate himself with the powers that be, even without any expectation of a reward.
It is difficult to be brief about New Delhi.  All the same, I must do so, and write to you about it.  I can say now, though,  that the Orthodox didn't depart from  the principles of the Evanston Declaration[10] but had no opportunity to make a public endorsement.   The Orthodox delegation issued  a separate statement[11] in the Unity section and this was circulated ‑ within the section only.  I am attaching a copy for you.  Behind the scenes, it caused a storm of objections from the Protestants and had to be removed from the protocols.  Nevertheless, it was unanimously adopted by the general assembly of the Orthodox delegates.  I have to admit that I was the author of the statement.  So, you see, the Orthodox position has not altered, but the general situation has. The Protestants don't want the Orthodox do have a separate say, and many Orthodox have nothing to say anyway.
Nissiotis' address[12] expresses his private opinion only and can in no way be regarded as the common Orthodox position.  Nissiotis works for the Geneva center and his address was commissioned by them. This was something new;  public addresses are normally delivered by delegates or members of specific commissions. The situation we had reflects the new policy of the General Secretariat, namely to find the kind of Orthodox spokesmen whose views would be acceptable to the Protestants. Vladyka Michael's[13] death is a great blow.
I am writing all this in confidence, at any rate not yet for publication, but something which is of interest in church circles.
In reality, New Delhi was a failure ‑ no inspiration at all;.
I hope the Conference on Faith and Order in 1963 will be better.
Please, convey my filial greetings and love to His Eminence.[14]
Best regards to your family.
With my fraternal  greetings,
Georges Florovsky[15]
3.
Letter[16] from  Fr A. Schmemann to Fr. G. Grabbe
20 Jan/2 Feb. 1962
My dear Fr George,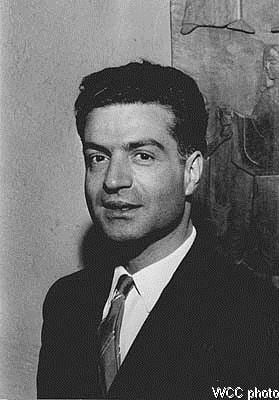 Yesterday, I returned from my trip to California and found your note together with Nissotis' address. Many thanks. The address is terrifyingly ambiguous gibberish, a collection of non sequiturs which can have any number of random meanings, but which nevertheless has the general tendency to substitute "the rule of faith"[17] as the  basis for Church unity with vague terms such as "martyria" and "diakonia"[18]. I am surprised that this address was allowed to be delivered, because  it must have been obvious to everyone ‑ even the heretics ‑  that once in print, it would cause objections.  Unfortunately, I am away again until 12 Feb, but once I am back, I am going to call you and arrange to meet up,[19] if possible. I am increasingly convinced that the Orthodox should leave the WWC and I plan to write about this.  I feel the WWC's main failing is their denial of even the possibility of heresy, i.e., doctrinal errors.  In this, modern Protestants depart from the position of their teachers, such as Luther and Calvin. They at least affirmed some things and refuted others.  Ecumenism is dangerous to the Orthodox when it is accepted as a vehicle  for "mutual enrichment"' Our participation in the WWC[20] becomes toxic at the exact moment when our conversation about faith changes into a discussion about so-called "ecclesiology"[21]. For the Orthodox, the teaching about the Church depends directly upon the teaching of the Church, devoid from which it is senseless and meaningless. This was our first defeat ‑ the tacit agreement by the Orthodox to move away from the firm ground that is the discussion about faith to the quicksand of various "martyrias" and "diakonias". This slippery slope has resulted in Nissiotis and by now, this has become so obvious  that it must be discussed openly.  This would be better than any number of "diakonias".
If I may, I would like to keep Nissiotis's address until after the 12th, but if you need it, my wife will return it to you immediately.
Sincerely yours,
Archpriest Alexander Schmemann
537 West 121 St.
New York 27, N.Y.
[tel.] Monument 2-3889
---